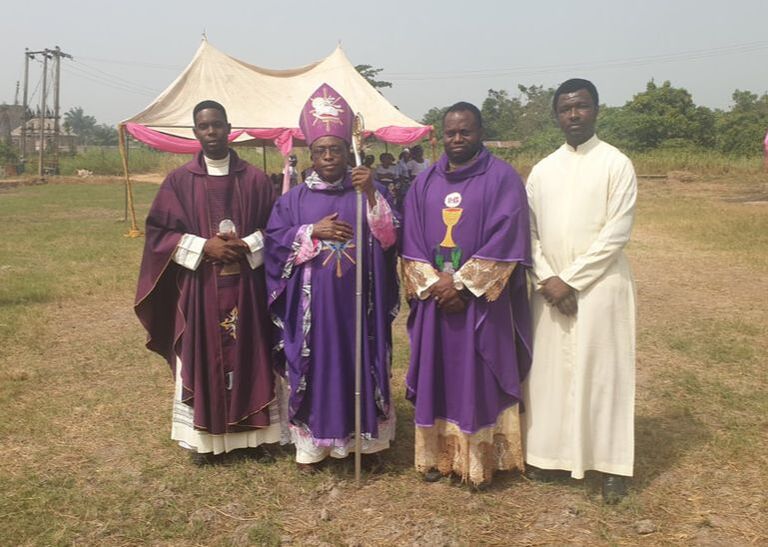 We got ready quite early for the pastoral visit across River Anambra. Today we turned our face to Umuikwu Anam. This visit would be the second time I was setting my foot on the soil of the town.
The first time, about four years ago, was a fact-finding visit. I came to understand the nature of the work of evangelization in the place. I interacted with the people, who showed me the result of their effort to build a rectory. Wonderful! By all means, they wanted to have a resident priest. But only very few people live there. Instead of St Anthony's Umuikwu - an Outstation of Umudora Anam, - the status of an Independent Station was granted to Onono/Ukwubili, where most people live and work.
Umuikwu is the headquarters of the Anglican Mbamili diocese with a resident Bishop.
This second visit was a full pastoral visit. I began by visiting a returned Mission school, which was truly in a very bad shape: the ceiling had come down inside the main block. There was an opening at one end of the house and whenever it rained, the pupils were forced to seek shelter elsewhere. Currently there were only two teachers. Others assigned to the school had absconded, but still earning their salaries. I wept about the the terrible condition of the place. I made up my mind to dedicate myself fully to restoring schools in all the areas under my charge. In the coming days, I will become more vocal, and firmly aggressive in fighting for and restoring the right of the people to integral, formal school education.
About two hundred persons attended the Mass I celebrated. A little over twenty persons were confirmed. Thanks to the Administrator of the Station: Fr John Paul Onyeogubalu - a dynamic priest, with gentle heart of a good pastor! After the Mass, brief reception followed. Then, with the Church leaders accompanying me, I supervised the rectory under construction. It was a very solid structure, with satisfactory architectural design.
I drove with the priests, who joined us for the Mass, to the Rectory of Umudora. Good exchange on pastoral strategies. Lunch. Then I waived good bye to Anam land and returned to Aguleri.