---
BISHOP ISIZOH'S PASTORAL ACTIVITIES
​THROUGH A CAMERA LENS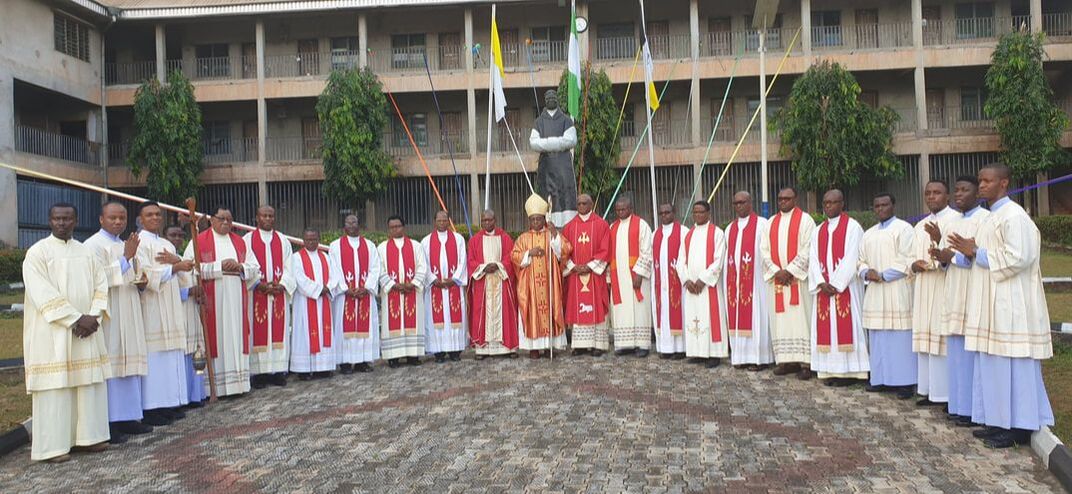 With Priests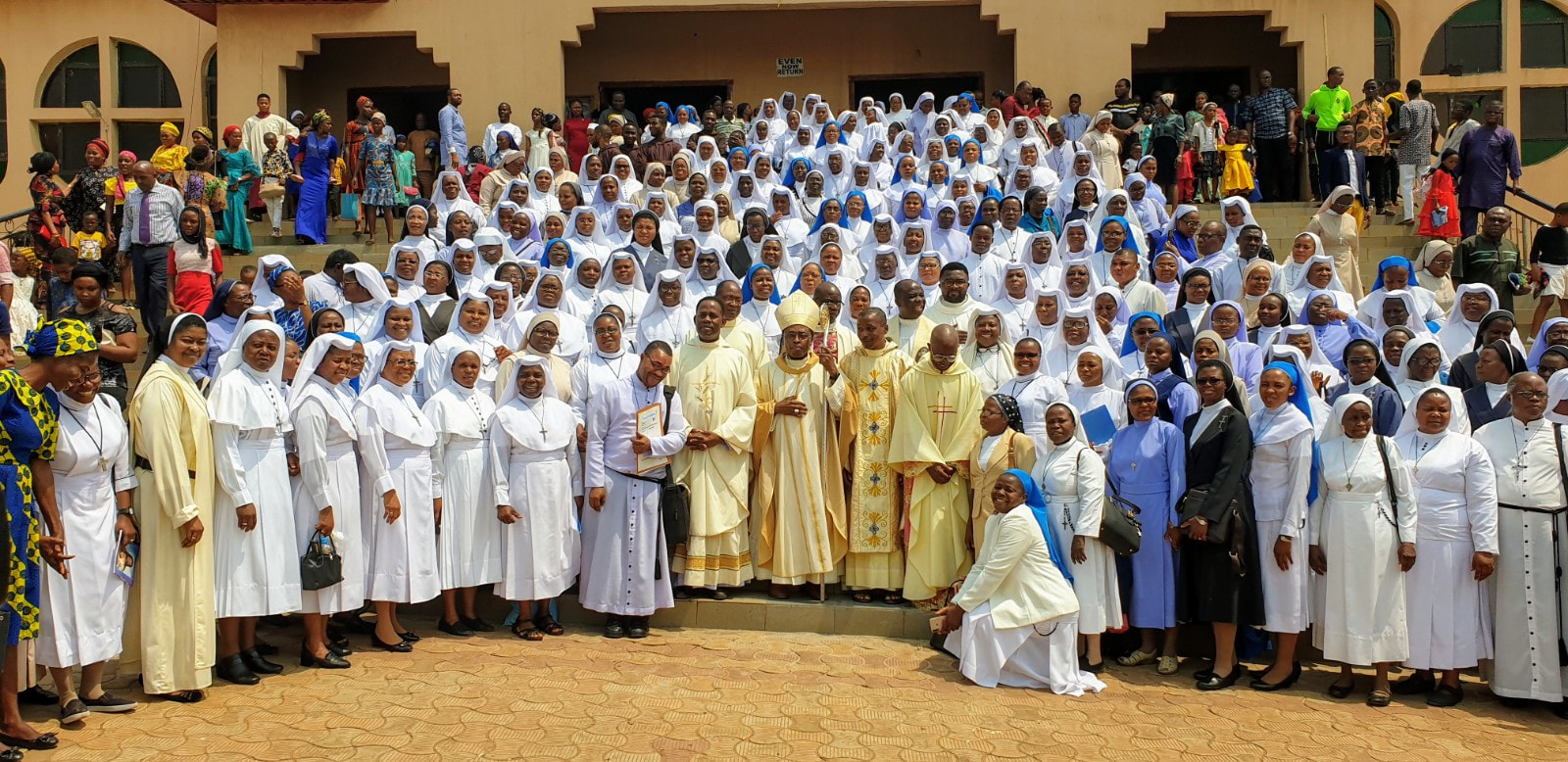 With Consecrated Men and Women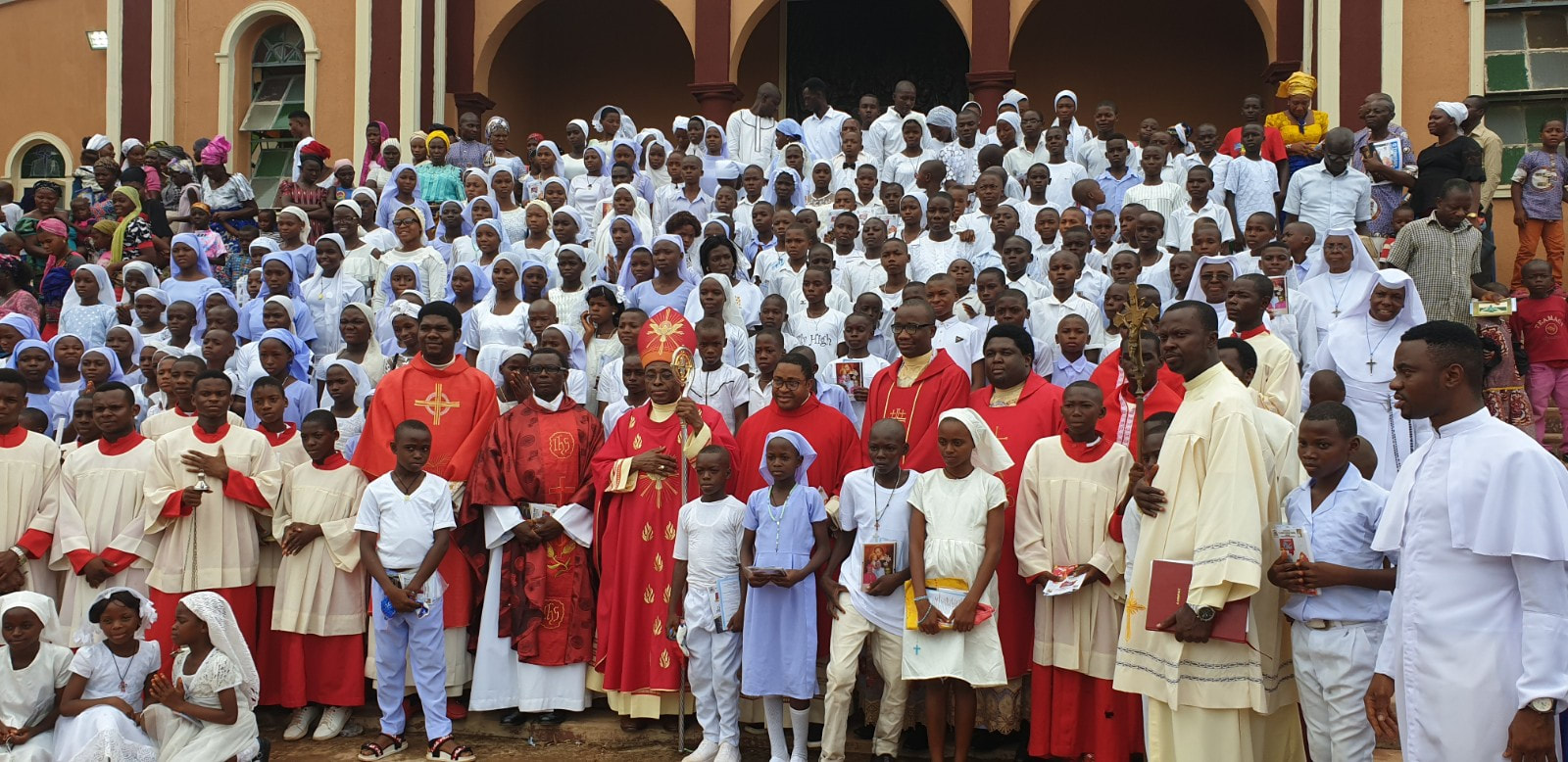 With the Lay Faithful
Click on event to OPEN
Trekking to a village in Olumbanasaa

Crossing River Niger through a narrow dry land

Ab, Okolo, Card. Arinze, Bp. Isizoh

Bp. Isizoh, Fr Ononuju, Bp Akpan
BISHOP ISIZOH ON PASTORAL VISIT TO CHRIST THE KING PARISH OMOR - ​12 January 2020
BISHOP ISIZOH - DEDICATION OF HOLY FAMILY CHURCH, UMUOJI - 29 December 2019
Rosary Recitation with Block Rosary Members in Olumbanasaa & Conferment of the Sacrament of Confirmation on Candidates from St Mary's Parish Nzam - 21 December 2019
Bishop Denis Isizoh: Priestly Ordination of Pallottines at Mbaukwu - 14 December 2019.
CONFIRMATION BY BISHOP DENIS ISIZOH AT ST DOMINIC'S CHURCH, UKE - ​17 November 2019
PASTORAL VISIT TO ST LUKE'S PARISH, OMOR - 15 November 2019
BISHOP ISIZOH ON PASTORAL VISIT TO SS PETER & PAUL, UMUMBO - 27 October 2019
BISHOP ISIZOH ON PASTORAL VISIT TO ST ANTHONY'S PARISH, NTEJE - 20 October 2019
PASTORAL VISIT TO ST ANTHONY'S OUT-STATION GREEN GATE ESTATE - 13 October 2019
​PASTORAL VISIT TO REGINA CAELI PARISH, UMUOJI - 6 October 2019
PASTORAL VISIT TO ST JOHN'S PARISH, OBA - 29 September 2019
DEDICATION OF HOLY FAMILY CHURCH, ORAUKWU - 22 September 2019
2019 Annual CWO August Meeting - Bishop Isizoh with Ogbunike Priests.
PASTORAL VISIT TO OUR LADY OF ASSUMPTION PARISH UMUOJI - 18 August 2019.
Priestly Ordination of Nnewi Diocesan Priests at St Michael's Church Ozubulu - 13 July 2019
DEDICATION OF OUR LADY OF VICTORY CHURCH, UMUERI. - 5 May 2019.
​2019 CATHEDRATICUM FOR NNOBI REGION - 17 April 2019
BISHOP DENIS ISIZOH VISITS ST PATRICK'S PARISH, ONONO (UMUIKWU) - 23 December 2018
DEDICATION OF ST THOMAS CHURCH, UKE built by Nnamdi Okwuonu - 9 December 2018
Bishop Isizoh - A day with St Vincent, St Stephen & St Michael's Parishes Ogbunike ​26 Dec. 2018
​WITH BROTHERS OF ST STEPHEN NIGERIA FIRST PROFESSION - 8 December 2018
​PASTORAL VISIT TO ST MARY'S PARISH, ALOR - 14 October 2018
DEDICATION OF ST JOAN OF ARC CHURCH, NANDO - 7 October 2018
DEDICATION OF ST JOHN THE BAPTIST CHURCH, NSUGBE - 2 September 2018
Priestly Ordination at the Basilica of the Most Holy Trinity Onitsha, by Bishop Isizoh - 21 JULY 2018
Pastoral visit with Confirmation (120 Candidates)
to Nwafor Orizu College of Education, Nsugbe - 10 June 2018
Rally/Holy Mass at the site of the Blue Army Headquarters in Igbariam
Bishop ISIZOH - Pastoral visit to Odekpe, Ala na Onugwa - Olumbanasaa - 11 March 2018
PASTORAL VISIT TO THE CATHOLIC CHAPLAINCY
OF CHUKWUEMEKA ODUMEGWU OJUKWU UNIVERSITY, IGBARIAM.
Cardinal Francis Arinze's Episcopal Golden Jubilee at Enugu.
Blessing of the Ground of Iwene Tansi Shrine Igboezunu, Aguleri
​and Mass of the Solemnity - 20 January 2017
Mass for Old Boys and Students of Father Joseph Memorial Secondary School, Aguleri - 19 March 2017
Pastoral visit to St Joseph's Parish, Awka Etiti - 7 May 2017
Dedication of St Francis' Church, Umuoji - 30 April 2017.
Silver Jubilee of "Casa Alba" by Focolare Movement in Nigeria.
Public recitation of the Rosary to mark the Centenary of Our Lady's Apparition in Fatima: 1917 - 13 May - 2017.
Dedication of St Catherine's Church, Awkuzu - 21 May 2017
Mass at Oba on the Anniversary of the Beatification of Blessed Iwene Tansi - 22 March 2017
Hosting of Cardinal Arinze and the Veteran Priests of old Onitsha Archdiocese
who sustained the Church in Igboland after the Nigerian Civil War. Priests ordained between 1958 and 1973
Visiting with Cardinal Arinze the "Chapel of the Altar", built by Frankline Amaechi Okeke
in Igboezunu Aguleri at site of Iwene Tansi Shrine.
With Cardinal Arinze interacting with Mgbadabanu Age Grade,
​in front of the hall the donated to the Iwene Tansi Shrine
In the family home of Blessed Iwene Tansi: reception by the family,
​taking possession and blessing of the site of Ejikwevi (mother of Blessed Tansi) hut - birthplace of Iwene Tansi

Going over to Ama Okene (the village square where Tansi grew up),
and interaction with Igboezunu elders and people (Iwene Tansi's kindred)

Mass at St Mary's Alor - Anniversary of Reinterment
​and first miracle attributed to Blessed Michael Cyprian Iwene Tansi - 17 October 2017.

Golden Jubilee of St Raphael's Parish, Awkuzu
Solemn Dedication of Madonna Church, NNOBI. - 13 May 2018
Dedication of St Anne's Church, Awka Etiti - 3 June 2018
Christmas Gala Evening in honour of Cardinal Arinze - 15 December 2016
Governor Obiano, Archbishop Val Okeke, Bishop Hil Okeke, Igwe Idigo et al in attendance
Pastoral visit to Oze Nkwelle - 21 August 2016
Priestly Ordination at the Basilica of the Most Holy Trinity, Onitsha - 16 July 2016
Dedication of the Church of Our Lady of Seven Sorrows, Umuoji - Idemili LGA - 17 January 2016.
30th Anniversary of Priestly Ordination with Classmates
Priestly Ordination at the Basilica of the Most Holy Trinity Onitsha - 21 July 2015
​Priestly Ordination of Rev. Charles Izuakor at St Vincent's Catholic Church, Ogbunike. 4 July, 2015.
​This is the first Priestly Ordination by Bishop Denis ISIZOH.
Unscheduled visit to Igbedor (Olumbanasaa) ​to celebrate the Solemnity of the Holy Trinity (31 May 2015) First boat ride as a Bishop to the most distant part of Onitsha Archdiocese. Very warm reception/interaction! Lost first zucchetto (skull cap) inside the River Niger - wind blew it off my head.
Dedication of Ss Peter & Paul's Church, Umumbo - Ayamelum LGA - 10 May 2015.