---
BIRTH: Tuesday, 24 January 1956 (Eke day), by Anthony and Theresa ISIZOH of Osile Ogbunike. NIGERIA.
BAPTISM: Sunday, 4 March 1956 by the Irish Fr Thomas SWEENEY C.S.Sp.
CONFIRMATION: Tuesday, 10 August 1965 by Archbishop Charles HEEREY C.S.Sp.
DIACONATE:
Sunday, 23 December 1984 by Archbishop Francis ARINZE.
PRIESTHOOD: Saturday, 28 September 1985 by Archbishop Stephen EZEANYA.
EDUCATION
St Raphael's Catholic Primary School, Awkuzu (1962-1963).
St Vincent's Catholic Primary School, Ogbunike (1964-1968/1970).
All Hallows' Seminary, Onitsha (1971-1975)
Bigard Memorial Seminary (Philosophy Campus), Ikot Ekpene (1976-1980)
Bigard Memorial Seminary, Enugu (1982-1985).
Pontifical Biblical Institute, Rome (1989-1993)
Pontifical Gregorian University, Rome (1994-1996)
ASSIGNMENTS
Formator, All Hallows' Seminary, Onitsha (1985-1989)
Chaplain, Immaculate Heart Sisters' Novitiate, Nkpor/OSB Monastery, Umuoji/Secondary Schools (1985-1989)
Official, Pontifical Council for Interreligious Dialogue, Vatican City (1995-2015)​
​EPISCOPACY:
Nomination: Friday, 6 February 2015 by His Holiness, Pope Francis.
(Titular Bishop of Legia, Auxiliary Bishop of Onitsha.)
Consecration: Friday, 1 May 2015 by His Eminence, Francis Cardinal ARINZE
​Installation as Bishop of Aguleri: Friday, 17 March 2023 by Papal Nuncio Antonio G. Filipazzi.

PIONEER BISHOP OF AGULERI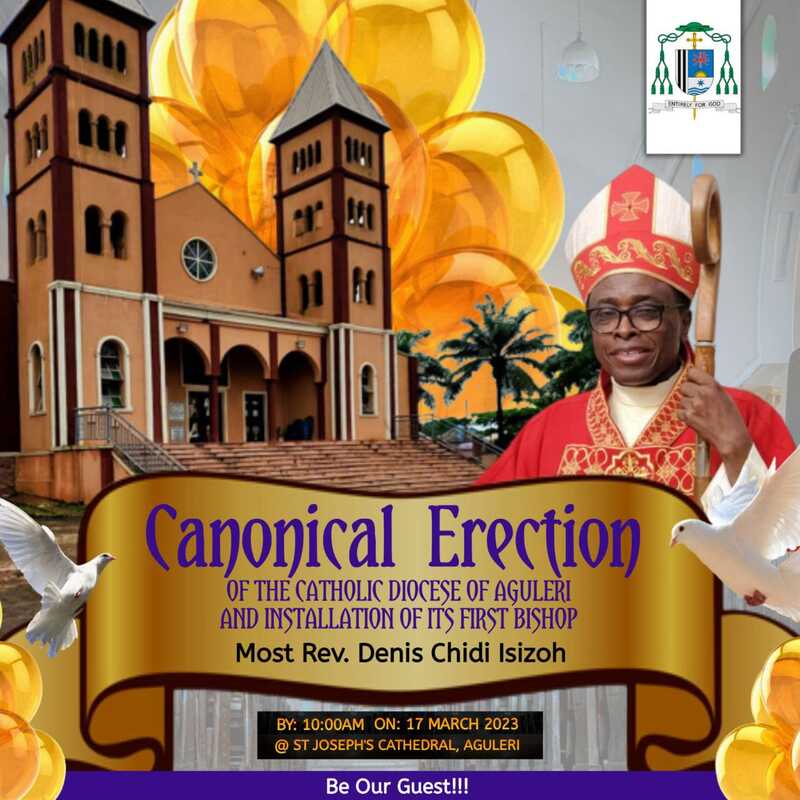 PREDECESSORS AS TITULAR BISHOP OF LEGIA
---
Bishop Arturo RIVERA DAMAS, s.d.b.
(Born 1923, Died 1994)
El Salvador
​Tit. Bishop of Legia: 1960 - 1977

Bishop André J.Réné LACRAMPE
(Born 1941, Died 2015)
France
​Tit. Bishop of Legia: 1983 - 1988



Bishop Leonard James OLIVIER, s.v.d.
(Born 1923, Died 2014)
United States of America
​Tit. Bishop of Legia: 1988 - 2014
---
PREDECESSORS AS AUXILIARY BISHOP OF ONITSHA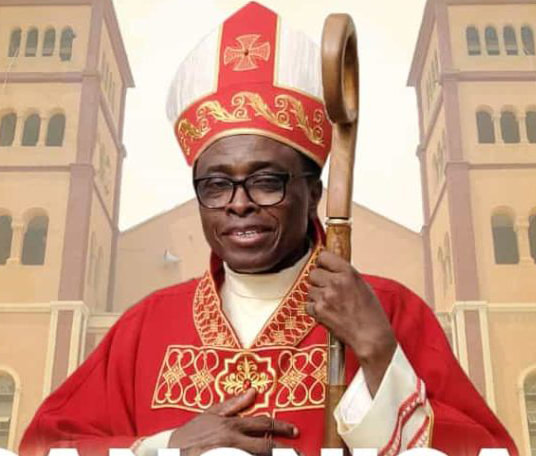 On Friday 17 March 2023, in St Joseph's Cathedral, Aguleri, Most Rev. Denis Chidi ISIZOH was installed the Pioneer Bishop of the Catholic Diocese of Aguleri. TOTUS PRO DEO!
---
EPISCOPAL ANCESTRAL LINEAGE: