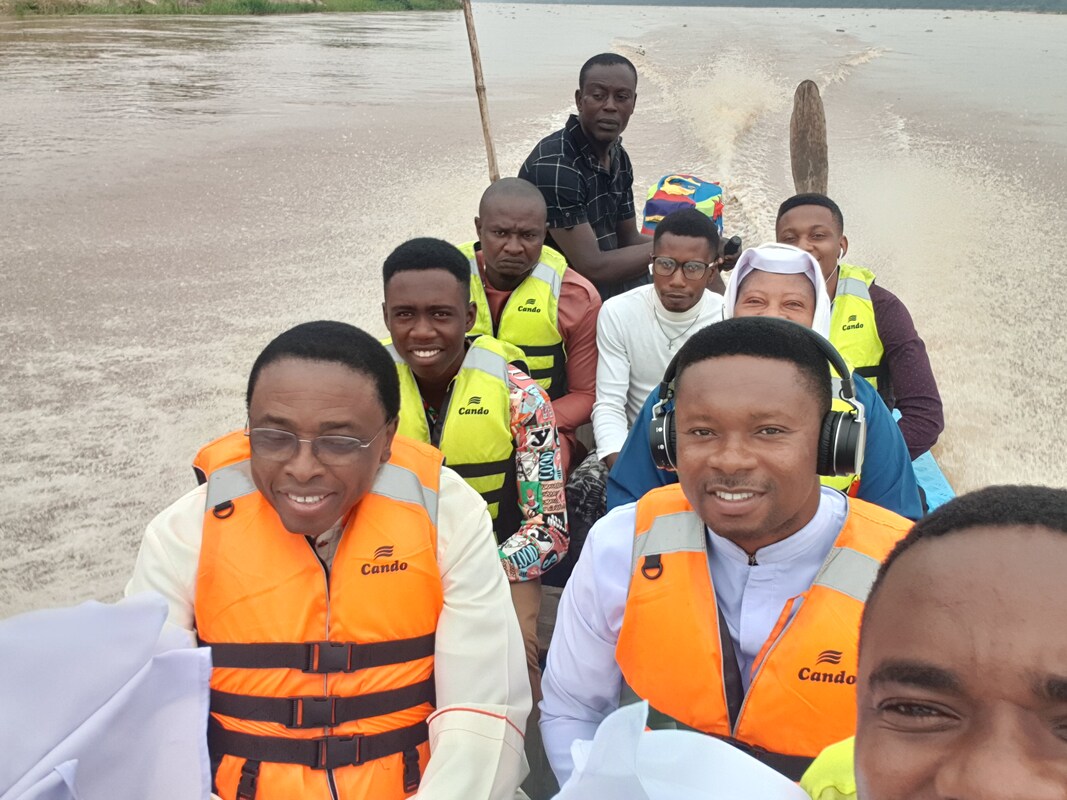 ​ Before 8.00am, we set out on Pastoral visit to Igbedor in Olumbanasaa. We first drove to Asaba and then to Illah. There at the River Niger bank we met Fr Josephat Madubuogwu (Parish Priest of Holy Trinity Parish, Igbedor) with some of his parishioners waiting for us. We boarded the boat and at 9.40am, we set sail across River Niger. Inside our boat were Fr Vincent Chukwuka, Fr Michael Odenigbo, Fr Josephat Madubuogwu, Sr Vera Mariette Nwankwo, Seminarian Paschal Okpala, Seminarian Cajetan Chimbiko, Onyeka Iheanacho, Marcellinus Omojo (my Igala teacher). It took us about 20 minutes to cross River Niger on a fast boat.
We trekked from the bank of the River into the town. We walked round through the principal roads in the town. This took us about 4o minutes. There was jubilation as I walked through the town, accompanied by different sets of drummers and dancers. The people came out in large numbers to welcome me.Originally, I had planned to have a rosary procession from the river bank through the narrow roads of the town. But considering the stress of long trekking, I decided that we dance and sing.
After dusting our feet in the Rectory, we entered the church for Mass, which started at 11.15am. The opening greetings of welcome by the parish priest, Fr Josephat Madubogwu set the the high tone for all our activities. He addressed the congregation in Igala language to the great applause and cheering by the people.
After Mass, lunch and interaction with the priests working in the island. Ecce quam bonum et quam iucundum habitare fratres in unum. Reception follows. I had the joy of distributing medals of Blessed Iwene Tansi. One important request by the parish priest: to provide them with electric generator. Convinced that the Lord would provide, I assured him that I would give them a good generator to enhance his work.
Back to the river. At about 4.35pm , we set out on our special boat to cross River Niger. Smooth sail to the Illah side of the River Niger. From there, we drove our car to Aguleri. A song to express gratitude for mission accomplished:

With and everlasting love, You care for me O Lord. I will sing forever of Your Love!
1. I give thanks to You with all my heart, You have heard the words of my mouth
2. I give thanks for your love and faithfulness, Which excel all our heart can conceive.
​